Welcome to Rockbrook Animal Clinic
in Omaha, NE
Call us today at 402-397-2424
Welcome to Rockbrook Animal Clinic. We are proud to offer you the compassionate and high quality care your pet deserves.
Developed during the onset of Covid-19 and retained by client request, your appointment begins with curbside check in for your pet's comfort. Upon arrival, text or call the phone number posted and our Client Service Representative will check you in. When your care team is ready for your pet, a staff member will come to your car. You may chose to remain in your car and consult with the practitioner remotely or join your pet in the exam room.
As veterinarians, a key part of the oath that we took was to protect and promote public health. We take that oath very seriously and work daily to slow the spread of any communicable illness. Our staff wears masks and follows heightened sanitary procedures for the safety of our community.
Our decisions are made on a local level by owners, veterinarians, technicians and support staff that are your friends and neighbors.
Thank you for trusting us with the well being of your pet,
Dr. Martin D Ramm, DVM
CEO, Rockbrook Animal Clinic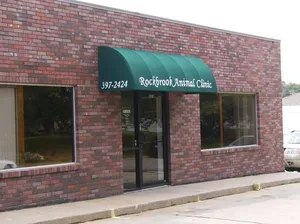 Our veterinarians, Dr. Martin Ramm, Dr. Matt Vipond, Dr. Amanda Valadez and Dr. Jessica Ramm are among the most respected veterinarians in the Omaha area and are committed to your pet's health and well being. Rockbrook Animal Clinic excels in pet care and the science of veterinary medicine.
Dr. Martin Ramm and the staff at Rockbrook Animal Clinic have provided Omaha compassionate veterinary care and pet services year after year, making us the animal clinic of choice for pet owners in and around the Omaha community. Read our petsimonials to meet some of our beloved animal friends.
Rockbrook Animal Clinic is a full-service animal clinic whose mission is to provide the highest standard of veterinary care for pets. We genuinely care about your pets and all animals! Our staff is passionate about veterinary medicine and are extremely well trained. We strive to provide professional, affordable, and advanced veterinary services. At Rockbrook Animal Clinic, you will walk into a calm, welcoming, and friendly environment every visit, so that the experience is as comfortable as possible for you and your pet.
Relieving pain and improving quality of life for our patients is our top priority. To this goal, we offer the most advanced pain management options available including medical management, acupuncture and laser therapy treatments to keep your pet comfortable.
Rockbrook Animal Clinic offers the Omaha community preventative medicine, medical, surgical, and dental services. If you are new to our website, please browse around to learn about our facility and to read interesting pet articles and watch groundbreaking pet videos. For directions to our office see our contact us page. To receive free monthly veterinary care articles, please subscribe to our newsletter.
Remember, at Rockbrook Animal Clinic, your pets are our family!
Dr. Martin Ramm
Omaha Veterinarian | Rockbrook Animal Clinic | 402-397-2424
2814 S 107th Ave
Omaha, NE 68124