We're pleased to offer the following services at Rockbrook Animal Clinic: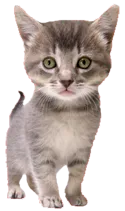 Our appointment book is computerized, which allows us to efficiently make appointments for you and your pet. Our receptionists and team will attempt to accommodate all requests to the best of our ability.
We have a veterinarian and personnel who are trained and equipped to handle many urgent care situations. Emergencies can be things such as accidental ingestion of something toxic, injury or sudden illness. If you ever feel that your pet needs emergency treatment call immediately. A qualified staff member will advise you if your pet can be cared for in our office or if you should seek treatment at an emergency animal hospital.
, We can care for many types of pets:
Dogs
Cats
Rabbits*
Pocket Pets*
Birds*
.